Official distributor - Contact us for wholesale
Saphir Medaille d'Or has been producing unique leather care products since the 1920s. Among other things, the company won a gold medal at the World Trade Fair in Paris for its revolutionary Crème in 1925. The leather house is the official distributor and retailer of all Saphir's products and underlying brands such as Dasco, Tarrago. See our guide in leather and shoe bearings here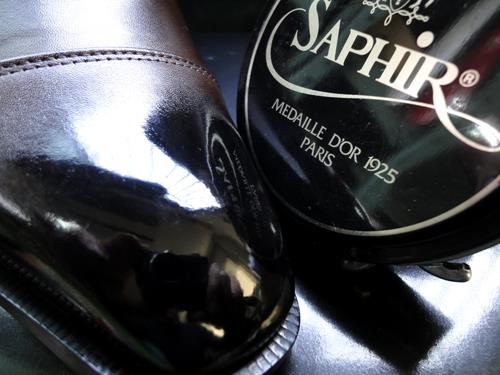 When you have finally bought a pair of beautiful shoes, for example, hand-sewn, start by taking good care of them and you will enjoy them more for a longer time. Whether it's a pair of Crockett & Jones, Magnannis, Church's, Santonis, Lloyd, they deserve the best care that leather desperately needs. Therefore, you must carefully treat your shoes with the right products so that you can enjoy them for many years!
Cordovan leather is a very different type of leather compared to e.g. calfskin. Therefore, a special cream called Saphir Cordovan has been developed. This cream has a very low level of natural turpentine because cordovan does not react well to solvents. Cordovan comes from the hindquarters of a horse and the leather is stiffer and more robust than, for example, calfskin.
A beautiful pair of suede shoes usually fit and feel good due to their flexible and soft qualities - This is why suede is most people's preferred type of leather for shoes. Suede, as well as, for example, smooth leather, must be treated well with the right products to prevent drying and wear.
In this category, you will also find our luxurious shoe care boxes. All our boxes are built with the utmost care and professionalism in Europe. We have different versions available in cherry, ebony, oak, and walnut finishes. A shoe care box is the best and most traditional to store your shoe-polishing equipment.
We also have shoe care for these good shoe brands: 8beaufort, AETREX, ANDREA CONTI, ANGULUS, DANIEL RAY, TIMBERLAND, WALDLÄUFER, CHARLOTTE OF SWEDEN, BAGATT, BIBILOU, BIANCO, CAMERLENGO, CAPRICE, DIGEL FOOTWEAR, DOCKERS BY GERLI, ​TAMARIS,
PIKOLINOS, DUFFY, FALKE - Listen to us for more details.